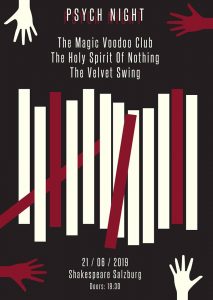 Mittwoch, 12. Juni 2019 ab 21.00 Uhr: Sensation! Eine der raren Ausgaben des Götterfunks windet sich bald wieder durch den Äther und präsentiert euch Gäste der feinsten Sorte. Zum Anlass der mighty Psych Night am 21. Juni im Shakespeare treffen sich zwei der drei Bands des Abends im Radiofabrik-Studio und öffnen den Rahmen für eine Szene, die nach und nach wieder Salzburg erobert: Seid dabei, wenn The Velvet Swing und The Magic Voodoo Club in den Abgründen der Psych-Seele wühlen und dazu den feinsten Soundtrack zur bestens gelaunten Melancholie dabei haben.
Der Götterfunk wie man ihn kennt und liebt, Gespräche zwischen Gott/Teufel und der Musik, zwischen Vorwärts-Preschen und Hineinfallen-Lassen. Hörenswert! sagen nicht nur die Beteiligten. Und das Beste: Die nächsten Konzerte sind nicht mehr weit:
Tune in, find out, feel free to stay!